The Blue River in the Winter
November 22nd, 2021
The Blue River in Colorado offers unique opportunities to enjoy wildlife and nature throughout the year. Contrary to popular belief, the Blue River still has a lot to offer even in the winter season. In the summer, the Blue River hosts some of Breckenridge's best whitewater rafting, but in the winter it transforms into an entirely new playground. Of all the unique activities this river offers, some of the most popular winter options are fishing, wildlife viewing, and photography. Located near iconic Breckenridge, Colorado, a scenic 30-minute drive north of town takes you to this fishing paradise filled with the grandeur of towering mountain peaks and impressive creatures.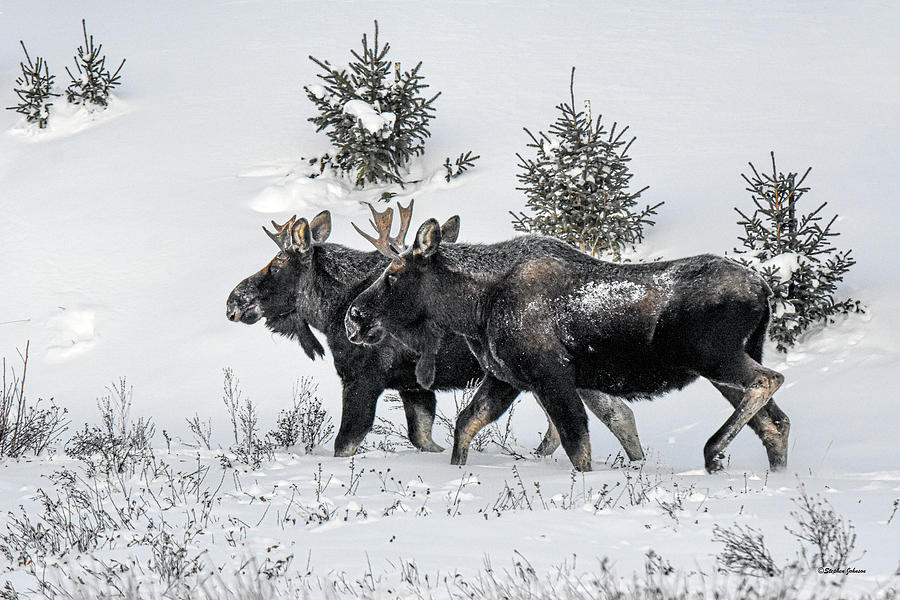 Two Moose in the Snow | Image courtesy of Stephen Johnson
Wildlife viewing is one of the simplest and most fulfilling activities you can participate in this winter near the Blue River. Some things to remember when viewing wildlife are to not follow them, feed them, or approach them – some of these adorable critters have very sharp teeth. While you're out gazing at fauna in their natural habitat, be sure to practice a leave-no-trace policy to help protect our incredible Colorado wildlands from human impact on fragile environments. Some of the larger wildlife that calls the Blue River area home are deer, moose, and elk. They are known to gossip by the river in the winter and are more than happy to take a bite of your lunch, so hide your goodies! You may also run into the more evasive red fox, bighorn sheep, and mountain goats. Fish will typically stop by to greet you with a quick splash as they rise to snack on flies. 
Fishing below Green Mountain Reservoir on the Blue River | Image courtesy of troutsflyfishing.com
Outside of the Colorado River, the Blue River is the perfect place to get your flies wet this winter in Colorado. The Blue River begins in Summit County at the southwest end of the Ten-Mile Range with plenty of areas shallow enough for wading. Don't forget your fishing license! The proceeds from a Colorado fishing license go towards protecting our rivers and producing more gold medal waters to catch big trout. Not to mention that it is required to fish in any public waters in Colorado. You can click here to buy your fishing license for the day or year. For awesome articles on fish and wildlife near the Blue River, check out the Game and Fish magazine. 
The Tenmile Range near Frisco, CO. | Image courtesy of Hugh Carey and summitdaily.com
Take your camera on every adventure you experience near the Blue River to record rare encounters and incredible memories. While you are fishing or wildlife viewing, take a moment to snap a couple of photos of the animals, trees and flowers, and the snowcapped mountains. The picturesque Blue River Valley will always produce a great photo, whether you are a professional photographer or just a visitor with a phone. If you're curious about the Blue River in the summer, check out the Blue River rafting trips from Breckenridge Whitewater for an exciting ride with a new perspective on the surrounding nature.