Written by Sam Fisher
It is impossible to be bored in a place like Breckenridge. This mountain town is truly a place you have to see to believe. Spend your days enjoying unbelievable restaurants with stunning views, taking to the trails for hiking and biking, boating on some of the most scenic lakes and rivers in the state, and participating in art workshops in Breckenridge's unbelievable Art's District.
You can't go wrong with no matter what you choose to do with your days here in Breck but if you're looking for some suggestions, we've laid out a three day plan full of unforgettable adventure and dining!
Day One
Start the day with a hike, refill with a lunch, soak in local art, and finish your day eating a dinner with a twist.
Morning Hike
Quick and Easy:
Sawmill Reservoir: A quick mile long (in and out) hike along a stream through the woods will eventually lead you to a beautiful small lake.
Peak 8 Hiking Trail: This trail rests high atop Breckenridge Ski resort. Take the free gondola up to the base of the mountain, a chairlift ride up the Colorado Super Chair, and you'll find the Alpine Loop interactive and Horseshoe hiking trails.
Indiana Gulch Trail: A mellow 2.8 mile hiking trail features wild flowers and beautiful nature views. Dogs are allowed on this trip too as long as they are on a leash!
Longer and Difficult:
Quandary Peak: This is a difficult 7.5 mile trail full of impressive views and ending at a 14,265 foot summit! It's a long hike so be sure to bring plenty of water and supplies.
McCullough Gulch: Lakes and waterfalls, what else needs to be said?! This wonderful 6.2 mile hike will lead you past multiple lakes and waterfalls that have to be seen to be believed!
Mohawk Lake to Pacific & Crystal Peak: Pack that water! This is a 11.8 mile loop that features a waterfall and incredible views of Summit County and a jaw dropping high alpine lake.
Lunch
Quandary Grill: This is a locals favorite for a reason! Quandary Grille offers a wide variety of dishes and has a sunny deck beside the Maggie Pond with epic views of Breckenridge's Peaks 9 and 10.
Crepes A La Cart: Truly a place of pure legend. You'll find people flocking to Crepes A La Cart at any time of year to enjoy crepes of all kinds. A unique experience that you may never forget.
Art
Isak Heartstone: Travel along a very short newly constructed trail to find Isak Hearstone tucked into the trees near the Illinois Gulch Trailhead. A 15 foot tall wooden sculpture of a troll built by the world-famous Danish artist, Thomas Dambo.
Breckenridge Arts District: This is a sentiment to the vibrant and creative community of the Breckenridge art community. Studios, galleries, performance spaces, public art, and cafes all come together to create diverse area of pure artistic brilliance.
Dinner
Modis: This contemporary restaurant located in the heart of Main Street is the spot to go if you're looking for an elegant menu, and impressive drink options. It also has one of the most impressive patios in town with a gorgeous look at the Breckenridge Ski resort.
Giampietro: Calling all Italian food fans! This amazing restaurant features delicious pizza, pasta, and Italian dishes. Giampietro DiMarchi immigrated to America from northern Italy and combined his love of mountains and Italian cuisine when he set up shop in Breckenridge back in 2002.
Day Two
Enjoy the most important meal of the day at one of Breck's best breakfast spot before hopping on a bike for a thrilling ride. Grab lunch on an incredible patio before learning some new creative skills and wrapping up your day in style at one of town's fine-dining options.
Breakfast
BoLD: Mimosas your thing? BoLD has a wide array of flavors from classic OJ to Blood Orange. Bloody Mary's your go-to? You just found the best "Make your own Bloody Mary" bar in town. In addition to these delicious beverage options, BoLD is the spot for delicious Benedict's, omelet's, and so much more. P.S. You won't want to pass up the diced hash browns.
Columbine Cafe: A local favorite in Breck, Columbine Cafe is a breakfast beast! Proportions that you can't beat, customer service that will have you feeling like you're at your local breakfast joint, and a massive menu makes this one of the best places to start your day.
Biking
Boreas Pass: We all know how beautiful Breckenridge is right? Well Boreas Pass opens up views of town from a unique vantage point like you won't believe. This trail can be as long as 17.4 miles but can really be as short as you desire. You will pass historic structures, ride along sheer drops, and be able to soak in some of Breckenridge's most stunning views.
Breckenridge Resort: While Skiing is what made many of us first fall for the Breck Resort, recently the summer operations have stepped up their game and the biking options are a perfect example of just that. Place your bike on a chairlift rack, hop on the chair behind it, reunite atop the Colorado chair and prepare for a epic ride back down. There are easy to very difficult biking trails to choose from! It's a great chance to rip down some of your favorite winter ski runs but without the snow and on two wheels instead.
Wellington Bike Park and Pump Track: Trails are great and all, but what about a place to catch some air? The Wellington bike park is the spot to do just that. A unique park complete with flow trails, massive pump track and top of the line up-keep make this the best place to flex those bike skills. This a stunning biking opportunity that is great for all skill levels and will blow you away with the craftsmanship behind the quality dirt, stone, and fencing.
Lunch
Downstairs at Erics: This is the perfect place to bring the family. It is both a sports bar and massive arcade. That means you get to sit back to watch the game and enjoy a refreshment, while the kids are focused on the countless arcade games.
Ollies: Ollies has been in Summit County since 2009 and is known as one of the best places for classic American "bar food." Originally located on Main Street in Breckenridge, Ollies has just recently moved to an even cooler location! It is now located on the water! You can find Ollies in the middle of a small pond of the Blue River. The restaurant is here on a unique dredge structure that provides incredible views of the Peak 10 mountain range.
Art Class
BreckCreate: Breckenridge Creative Arts (BreckCreate) is a cultural nonprofit that is the backbone of the Breckenridge creative and art community. In addition to scheduling performances, exhibitions, screenings, and festivals, BreckCreate also has a robust number of class and workshop options for all to participate in. BreckCreate has studios all throughout the Arts District that are each equipped for different arts such as glass blowing, ceramics, crafts, dance lessons, and so much more. There are classes almost every day available to the public and there is truly something for everyone. Whether you're looking for a creative afternoon with the kids, or a unique date night, check out BreckCreate's workshop calendar to find the perfect class for you!
ReadyPaintFire: Sure, you could grab a Breckenridge mug or other souvenir from any of the gift shops around town to bring back home with you… but why not step it up a notch and bring back a souvenir you made yourself? Ready Paint Fire gives you the opportunity to do just that. They have a massive selection of plates, mugs, pottery, canvases, mosaics, and plenty more options for you to create your masterpiece. Paint a piece of pottery, leave it overnight for the staff to fire it in the kiln, and return to pick up your polished piece. The friendly staff is there to walk you through whatever you may need help with and even host nights where they will walk you through step by step how to create canvas paintings, glass-fusion projects, and other projects. My family would stop in Ready Paint Fire every time we visited Breckenridge from Michigan, and now as a Breck local, whenever I visit home there are still several of our Ready Paint Fire creations proudly displayed throughout the house.
Dinner
Aurum: This is a newer restaurant in Breckenridge but is already a staple in the local dining scene. It is a "innovative New American fare, with unique cocktails and craft beer served in stylish, rustic chic environs." The dining room is an exquisitely modern space that will embrace your group with warmth and class. From Prime Beef Tartare to Rocky Mountain Trout and some of the town's best steaks; The only issue you will have at Aurum, will be trying to decide what delicious meal to order.
Breckenridge Brewery: Breck Brewery opened in its doors all the way back in 1990 and its the third-oldest craft brewery in the state. Located on the south end of Main Street, this pub offers delicious food and a more than respectful array of beers. If you're from anywhere in the U.S. there is a good chance you've seen Breck Brewery beers in your local stores as they ship beer to thirty-five different states! The lively atmosphere and epic menu will have you coming back for seconds!
Day Three
Take to the water on Dillon Reservoir and the Blue River. Both the reservoir and river are among the most scenic areas you will find anywhere in the Rocky Mountains and are the ideal spots for unforgettable boating adventures. When you find yourself back on land, grab lunch with a view at one of Breck's epic patios and finish up your day with a dinner consisting of award winning food and spirits.
Dillon Reservoir
Frisco Bay Marina: This beautiful marina is located on the shores of Dillon reservoir. It's a perfect place to relax on the beach, enjoy waterside dining, sailboat tours, or to rent boats, kayaks, canoes, or paddle boards! There's a wide array of rental options here. You can get pedal board, single or tandem kayaks, canoes, fishing boats, pontoons, and other vessels to explore the incredibly picturesque Lake Dillon on.
Lake Dillon Marina: The world's highest deep-water marina! This marina offers the Colorado high country's only lakeside dining with an elevation of almost 2 miles above sea level! This stunning marina offers boat rentals, SUP and kayak rentals, boat tours, and sailing lessons! Start your day with unforgettable views out on the water at the Lake Dillon Marina.
Lunch
Empire Burger: This is simply the spot for all you burger-lovers out there. Empire Burger has won "Best Burger" in Summit County ever year since 2007 and it is well deserved. Located on the deck of the La Cima mall, you'll have a wide open view of the mountains while you crush a insanely tasty lunch. In addition the burgers like the classic cheeseburger, guac bacon burger, and western burger, there are also countless great appetizers and sandwiches to choose from. Also, if it were possible to become bored of this menu, the massive sauce options that include jalapeno ranch, wasabi mayo, and parmesan peppercorn will keep you wanting more!
Angels Hollow: Located on Ridge Street, Angels Hollow is the perfect little escape from all the hustle and bustle of Main Street. The patio here may just be the best one in town. The elevated patio gives you a unmatched view of town and the mountain. The eclectic menu is perfect for groups with different taste pallets. And if the food doesn't sell you, the famous Angels Hollow Margarita will do the trick!
Rafting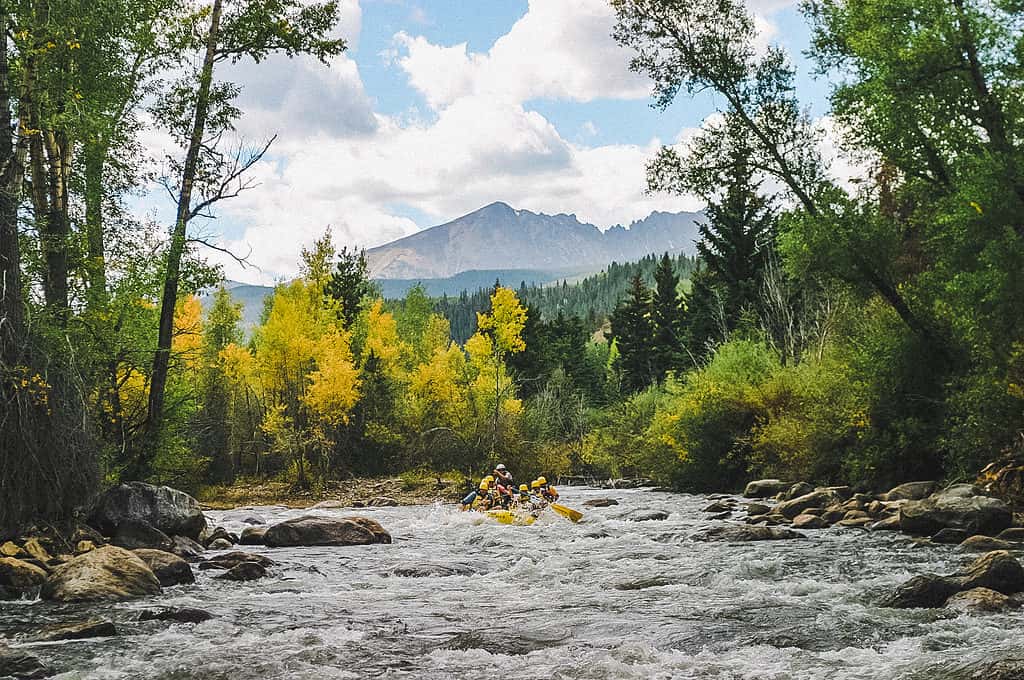 Breckenridge Whitewater Rafting: Take to the Blue River for a incredibly scenic fun and splashy whitewater adventure! Only minutes from Summit County, this exciting whitewater trip offers action-packed rapids and jaw dropping views of the Gore Range. This whitewater excursion is perfect for families, first-timers, or anyone looking for a shorter adventure. There is a minimum age of 5 years old. Breckenridge Whitewater Rafting have guides that will have you feeling confident, safe, and cracking up from all the cheesy jokes your bound to get hit with!
Dinner
Breckenridge Distillery: The world's highest distillery! There are a few different reasons the Breckenridge Distillery is known as one of the most elite restaurants in town. Reason #1 (in no particular order): Chef David Burke. The former two time winner of "Best Chef in New York" has taken his talents to Breck to design a menu unlike any you will find anywhere else in the county. The "flavors are big and bold yet remain rooted in traditional American cuisine." Reason #2: Award winning spirits. The Breckenridge Distillery has quickly become an award winning producer of fine spirits, with its bourbon designated as one of the top three in the country. Breckenridge Bourbon has won Best American Blended 4 times already from the World Whiskies Awards and Bourbon of the Year award at the 211 International Wine & Spirits competition. Reason #3: Ambiance. This dining room is as modern, classy, and stylish of a place as can be. With food, drinks, and a room as nice as this one, you better keep checking your watch to make sure you don't accidentally end up spending hours on end here!
When You Return Home
Share your tales of Rocky Mountain adventures with all of your now jealous friends and family.
There's no place like Breck.