Every year the International Snow Sculpture Championships comes to the town of Breckenridge. Teams from all around the world compete across five days of sculpting snow into works of art using just hand tools! It is truly a sight to see these artists work.
Taking place from January 19th to the 23rd and to help kick off the Snow Sculpting Championships is Snow Block Stomping Week! Help prepare the snow by joining everyone in stomping the snow out. To get the snow ready for the artists the snow needs to first be broken down, so it can be constructed into a 12 foot block of snow weighing in at 20+ tons. The blocks of snow need to be prepared at least a week prior to the event so the snow pack can settle and compact under their own weight before being sculpted. Once the snow settles, the snowpack becomes consistent. Depending on how strong the snow consistency is allows for the artists to construct more gravity defying sculptures.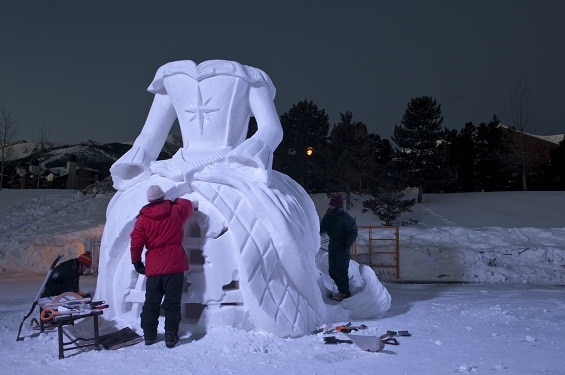 There can't be any snow sculptures if there isn't any snow to sculpt. Help break down the snow and reconstruct it into a 20 ton block for the artists to come in and create stunning sculptures. Once the artists come in, prepare to be marveled at what come from a block of snow!