Where the Locals are Rafting in Breckenridge
March 6th, 2019
Written by Kurt Griesenauer
When you're somewhere on vacation you are always looking for the inside scoop. You're looking for the best local restaurant. You want to find where the secret powder stash is hidden. You want to know what the locals do for fun and where they go. Here is a little piece of that local knowledge on where to go whitewater rafting when vacationing in Breckenridge, Colorado.
Breckenridge is a great jumping off point for rafting in Colorado. You have a bunch of different options within a short drive. Colorado whitewater is snowmelt driven. This means that rivers run at different times depending on the amount it snowed during the winter. There are also terrific options for all different levels of ability. So, I'm going to give you a few different options depending on the season.
This is the closest river to Breckenridge, Keystone, and Frisco. This river has incredible views and is a terrific, family-friendly stretch of whitewater that offers plenty of adventure. This river is class II-III rapids making it a great river for intermediate and beginner rafters. The Blue River is known for its gold medal trout fishing and clear running water. Catch this run early June and July as it is a short and fast season.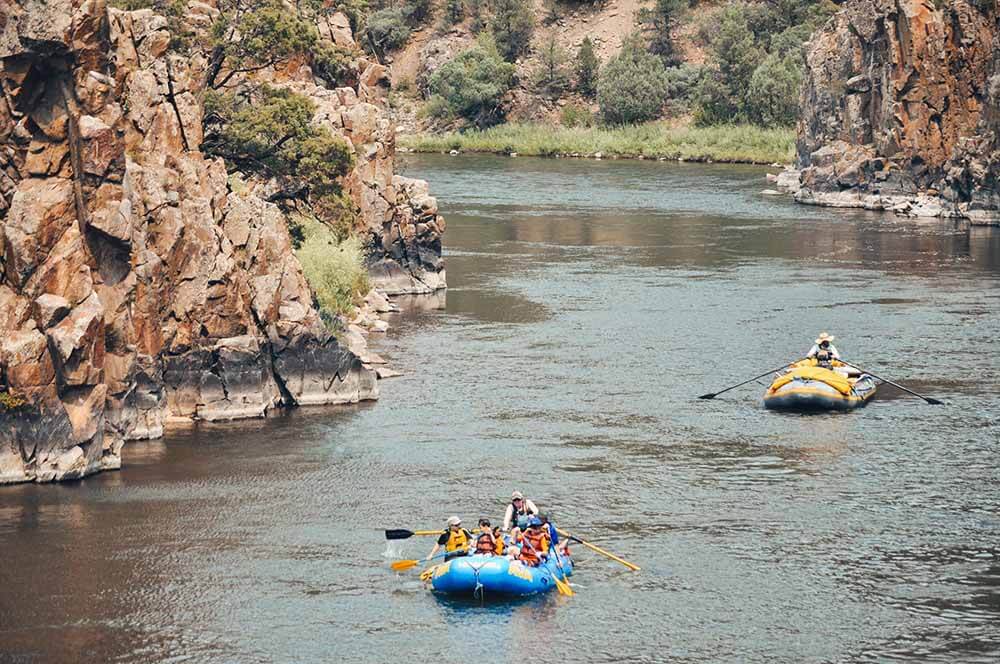 The upper Colorado is a trip for all ages and abilities. This trip has a couple class III rapids with a few other small ones in between. There many opportunities to get in the water and float on this trip. There are cliffs you can jump off into the water. There are hot springs located along the river bank. The whitewater on the Upper Colorado is relatively mild but still has its dangers. There are a few different options for this trip. You can choose from a half day guided trip, a full day guided trip, an overnight rafting trip, or you can even rent your own equipment. This trip is sure to be a blast for the whole family.
If you're looking for a physically demanding trip, then look no further than Gore Canyon. Located about an hour north of Breckenridge. This trip is not for the faint of heart, out of shape, or new to rafting. This trip is a class V rafting experience that involves constant paddling. It's a beautiful remote canyon with technical rapids with steep gradients and big drops. If your looking for an action packed adrenaline filled trip gore canyon is your spot. This trip only runs late season as the water is too high most of the summer.
This river has sections for most ages and abilities. They have half and full day trips run on this creek. Water is normally the highest in mid to late June but trips run all the way through Labor Day. This creek is very steep and technical. Full day and half day trips running most of the season. This river is about one hour from Breckenridge and about one hour from Denver. If you're looking to do multiple activities in a day this river is for you as you can do a trip in only a few hours.
Well now you know the scoop. All there is to do is go out and book your trip today.